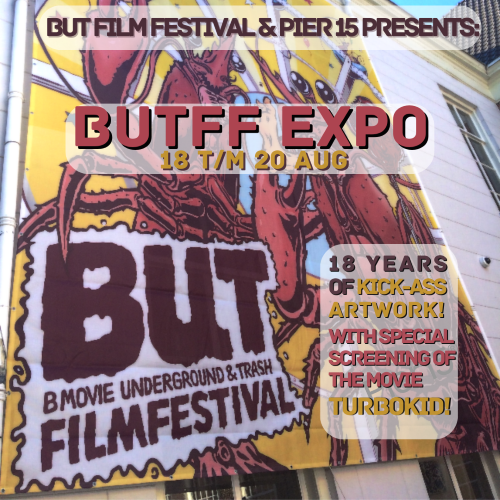 BUTFF EXPO bij Pier 15
The BUT Film Festival, which has grown steadily over the past 18 years, has finally reached its adult age. As the only film festival in the Netherlands dedicated to B-movies, Underground & Trash, BUTFF marks an important milestone with its 18th anniversary. From August 30 to September 3, the festival will take place under the theme "Now we're cooking!", treating audiences to five days of violence, absurdity, creativity and madness.
BUTFF EXPO at Pier 15
To celebrate this special year of construction, the festival is proud to present the "BUTFF EXPO" at Pier 15. A unique exhibition will be held in the skate hall featuring mega banners containing art illustrations that have been shown during the festival in previous years. Some of these banners are more than 7 meters high and contain artworks by various artists, including works by renowned artist Jeroen de Leijer. The official opening of the BUTFF EXPO takes place on Friday, August 18 at 20:30u by our own MC BUTHEAD. The banners will be on display during Pier 15's opening hours throughout the weekend of August 19 and 20. More information see website Pier 15.
A celebration of quirky cinema
Founded in 2005, the BUT Film Festival provides a unique platform for filmmakers who venture outside traditional boundaries and experiment with visual art and storytelling. The event presents some 50 films that challenge and draw audiences into a world of alternative and groundbreaking cinema.
In addition to the film screenings, the festival offers a rich program full of performances, live music, art exhibitions and a selection of high-quality beers to enjoy. The BUT Film Festival brings together a diverse community of artists, musicians and film lovers, celebrating free spirit and artistic expression