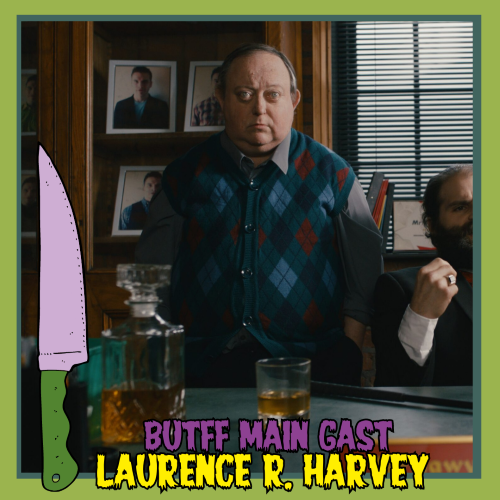 We're proud to introduce our main guest of BUTFF 2023: Laurence R. Harvey!
He made nasty cinema history as main antagonist Martin Lomax in the highly controversial, even in black-and-white, "The Human Centipede 2 (Full Sequence) (2011)", directed by Dutch enfant-terrible Tom Six. After reading criticism claiming the first film wasn't all that shocking, director Six vowed to make the sequel as vile as he could. He succeeded with Harvey as the unforgettable copycat obese psychopath, who's such a fan of the first movie he plans to do a DIY sequel: 100% medically (IN)correct! In a twist fitting for our festival, we'll be screening it in full colour smell-o-rama! (maybe not the smell-o-rama, but it'll definitely make it look so nasty you could almost smell the excrement).
He also appeared in "The Human Centipede III (Final Sequence) (2015)" in a different role, as as "Wanker" in a segment of "ABCs of Death 2 (2014)", "Frankenstein Created Bikers (2016)" and "Attack of the Adult Babies (2017)".
Harvey will introduce four films in which he appears screened at BUTFF 2023, including "The Human Centipede 2" also the highly amusing Giallo satire "The Editor (2014)",   the Troma film "Eating Miss Campbell (2022)" and the anthology horror flick "Video Shop Tales of Terror (2023)". 
On Saturday he'll be prowling the BUTsquare for all your (unstitched) selfies and autographs.
 tickets for the festival are one sale now!