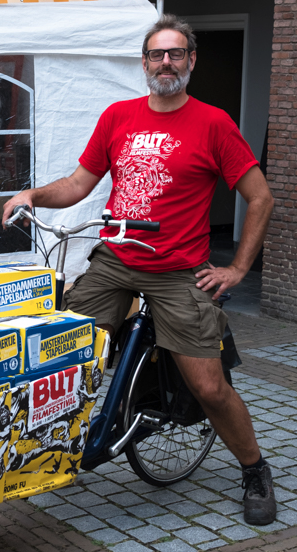 What's your role in BUTFF?
I've been with BUTFF for a long time, since the start of the festival. First, as a visitor, I think in the first or second edition. After that, I joined the programming team. They were looking for volunteers to help look for crazy B-movies, underground, and trash movies to get for the next edition of the festival.
I met Paul and Dorien because we were all owners of video stores. We hit a couple of stores with crazy films. We thought we could join forces, share some films, maybe ideas. And so we did. We also put out a magazine about cult films in the video stores, which was a rare breed at the time because usually, video stores had only the likes of Sylvester Stallone and Bruce Willis movies. But there were a happy few, which, next to arthouse movies or Hollywood movies, put together a section for B-movies, trash movies, films from the Troma Studio, stuff like that. And a big horror section, we were big horror film fans, our offence at the time (laughter). That's how it all started, with low budget horror films, or funny B-class that came out at the time, like Reservoir Dogs by Quentin Tarantino, which we liked a lot. And Trainspotting.
Films like that brought us together. Then, we started talking about the film festival. It started in the backroom, more or less where we are sitting right now.
You're being humble about your role. Now, you're listed as an artistic director.
Uh, yeah. I made a great BUT career. (laughter)
So what do you do as an art director?
I'm an art director but also head of the film programme. I make sure the film programme sections are put together, and that all the people involved agree on the main theme each year. I'm not the one choosing the main theme, but I'm translating it into a film programme.
I also join forces with other film programmes. We have collaborations where people do part of the programme or introductions. For example, we work with WORM in Rotterdam, we're also in touch with the Offscreen Film Festival in Brussels. I'm the one who's keeping the contacts alive. I go to a lot of film festivals, I get invited or I invite myself in (laughter). Actually, and with quite a lot of success, I get invited for jury positions. Also, as an accredited or affiliated festival, we get invited a lot and as a "thank you", we invite people from those festivals to our festival.
Why BUT movies? What drew you to this genre?
BUT movies are underrepresented in the regular film scene: the regular cinemas, art houses, and also in video stores. B is the kind of movie that is funny and crappy and cool at the same time. I discovered a new breed of films, which I thought were very funny. Back then, Peter Jackson made very funny B-movies in his backyard. I thought it was so funny that they got released and other people were watching and liking them. You might as well join in and make a festival out of that - put together beer, friends, a lot of fun, and watch the movies.
Back then, a film programme started in Holland called "Not funny ones: The night of bad taste". It showed a compilation of B movies or crazy trailers from the worst films ever made. There were werewolf movies from Bollywood or Russian police movies and monster movies from Bulgaria. There was no budget for those films and they showed their compilations. This was a big inspiration for our festival.
What's the theme of this year's edition?
This year, we focus on revenge movies, mainly grindhouse or B-movies. It's a big theme. Films like "Dirty Harry" or "Walking Tall" came from that. There's always a revenge theme in a lot of movies, even Western or Japanese productions. We were thinking, well, what about B-movies? Let's look at B-movies or underground stuff that's related to revenge and vigilante films. Vigilante films; like good neighbourhood guys or family fighters picking up the guns and joining forces to battle the scum on the streets.
In the 70s, there were a lot of cool films made like that, there's even a film called "Vigilante" itself. It's about cleaning the streets of New York and getting rid of all the scum, drug dealers, and pimps. It's, of course, very violent. The main recipe for these films is that the first part of the film shows a lot of violence by the bad guys. And the second half of the film is a lot of violence used by the good guys. As a spectator, it's up to you to decide where your limits are. How far would you go?
The female part of the programme is rape-revenge movies. Those movies have the same pattern as revenge films except that there's a woman raped and she gets back at her perpetrators in an even more extreme way. It's an exceptional and a very extreme part of cinema that is usually only shown on DVD or at small festivals. We'd like to bring that to the big screen.
When can we expect the movie programme?
June 1 is the deadline for submissions. All the films should be in by then. July 1 is more or less the deadline for all the publications. It should go online then. But we'll reveal some titles in the coming weeks already.
The festival is only happening in August. What can you recommend for impatient fans for now?
Well, the good news is that on May 18th, we joined the Chassé Cinema in Breda for a screening of a B-movie from Italy from the 80s. It's called "Monster Shark" and it's a B movie delight. It's a rip off of "Jaws", of course. For people who thought that the shark in Jaws was looking fake, well, you have not seen "Monster Shark" yet because it's really abysmal. It's more like cardboard put badly together with no money for special effects but still doing a shark movie*. It's funny and crappy but still great at the same time. And it's the kind of film we're looking for.
Our collaboration with Chassé Cinema Breda is a monthly programme called BUTplugged, put together by Ryan Oomen and Dorien Eggink. BUT Film Festival recently acquired a collection of celluloid films on 35 millimetres and 16-millimetre copies from a collector. We have old kung fu movies from the 70s or horror films, and all that kind of weird erotic stuff that was shown in the cinemas back in the 70s and 80s. We will screen a film every month from this collection**.
What about people that don't live in Breda, do you have something for them?
I'm also programming for WORM Rotterdam, a monthly show called CULT film. It's been out there for the past 10 years. There, we show cult films which can be anything from the 70s up until recent films. We usually collaborate with other programmes running at WORM, for example, in mid-May, there was the Tec Art festival, so we programmed a science fiction film about technical stuff going out of hand.
How do you select movies for BUT? When is it 'BUT enough'?
We get a lot of submissions, over 3000 short and feature films to watch yearly. We do reject films that are too bad. We rely on a couple of websites where filmmakers release their stuff or directly share it with us. We also rely very much on distributors, like Raven Banner or Dark Sky Films. They release the type of films we usually show at our festival and they are easy to access.
We get a lot of horror and science fiction. We are looking for the ones that are a bit odd, or there's something weird about them, which are not made traditionally, or either very low budget or very, very extreme. That's how we select them. And they should fit in one of our categories. It should be either a B-movie or related to B-movies.
We also show documentaries about the movies or films that are inspired by B-movies. Then there's the underground stuff, which is more difficult to come by. It's usually films made for a few people only and they don't get released, maybe only on DVD or online. Sometimes the filmmakers don't want to be known: they only work under a pseudonym or don't want to come to the festival at all. That's because they are afraid or their movies feel really sick and extreme, also sometimes people think that what they're filming is real.
We get a lot of extreme stuff and I get to watch it all.
How's your psyche?
It's pretty bad. Since I've been head of the film programme, it's going down the hill.
Then the next question is just perfect for you. What's your personal favourite part about BUT?
The special thing is that BUT is a multidisciplinary festival. We incorporate performance, music, and live gigs. We put that all together in those five days of the festival, which is a hell of a job for the head of production. Dorien is the one who's stressed right now. But she's still looking okay. (Dorien looking snarkily at Alex from across the room)
Another special thing is that we put together a programme that's suited for weirdos like us, who like extreme films or strange films that are not shown in other places. And we put those together in five days of crazy films.
Dorien: Five crazy days of film, or five days of crazy film. Either fits the bill.
Where do you see BUT in five years?
I hope in the hands of new people. The original programming team is in their 50s. We're not retiring but looking for new people who like the same type of movies and can come up with new inputs to join the crew. Crazy stuff that's suited for our festival. We've been doing this for quite some years now and maybe it's time for a new generation to show up in five years and take over.
What's a BUT movie that everyone should see?
That's a tough one. Maybe "I Spit on Your Grave". The famous title from the 70s. It's a quintessential rape-revenge film. The movie title is one that always stuck with me. It's one of the most violent films I've seen in my life and trust me, I've seen a lot of violent films.
We also hope to show the film and its remake at BUTFF this year. Usually, remixes are worse but this one is maybe even better than the original one. It's a very cool film.
Let's hope to see it this year. Thanks for the interview, I'm looking forward to August in Breda!
*Editor's note: Alex is confusing "Monster Shark" with "L'ultimo squalo" (1981) by Enzo Castellari. I guess we will forgive him that.
**Editor's note: Before each screening, the audience gets to pick which movie is shown in the following month. Cool, huh?