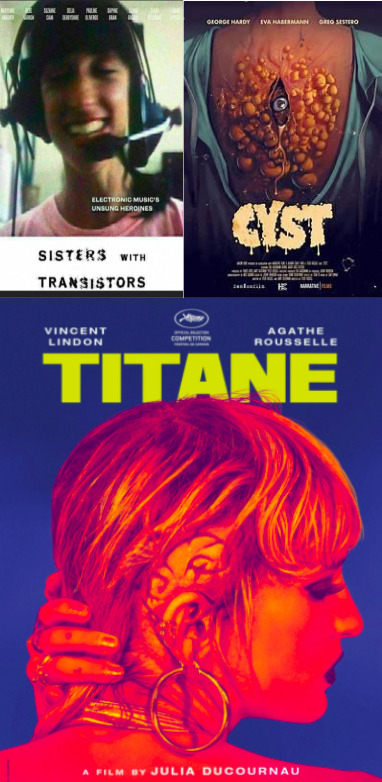 Tim is een echte liefhebber en heeft een aantal favorieten uitgezocht:
Cyst
Een film over dokters, een cyst is een blaas met ether in ergens in jouw lichaam. Een enkeling heeft het wel eens op haar kin gehad, ze had een voorkin i.p.v. een onderkin.
Het is een echte Butfilm, geknutselde effecten, papier maché en heel veel gore en andere troep. Ranzig en grappig.
Cyst speelt om 17:30 in Chassé, op do 2 sept.
Sisters With Transistors
Een documentaire over vrouwen die pionierden in de wereld van de synthesizer. Superinteressant hoe zij hun creativiteit gebruikten en met hun apparaten invloedrijke muziek
wisten te maken. Er worden veel artiesten genoemd die intussen al op leeftijd zijn, het gaat over de periode van de jaren 50, 60, 70 en 80. Onder andere met Wendy Carlos.
Sisters with Transistors speelt om 19:30 uur, in de Kwa Zaal op vr 3 sept.
Tims Topper:
TITANE
De film doet mij denken aan Raw, een meisje die als vegetariër ontdekt dat ze vlees lekker vindt. Vlees wordt mensenvlees en ze gaat hier creatief in los. Helaas speelt Titane tegelijkertijd met Dinner in America dus die moet ik een andere keer zien. Ik verwacht van Titane een zelfde soort sfeer als in Raw. Creatief en zeer interessant. Vleselijk lekker.
Titane speelt om 22:00 in Chassé, op za 4 sept.
Tim vindt dat het thema herhaald mag worden.