Film screening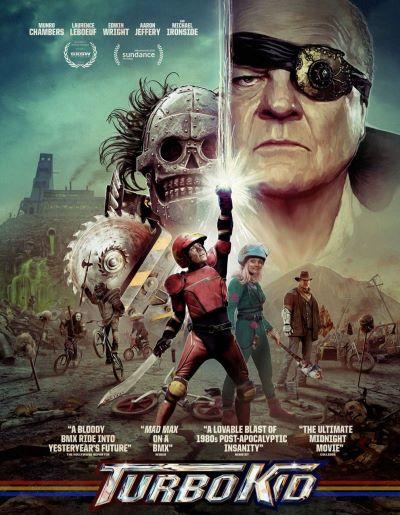 𝟏𝟖 𝐀𝐔𝐆𝐔𝐒𝐓𝐔𝐒 – '𝐓𝐔𝐑𝐁𝐎𝐊𝐈𝐃'- 𝐁𝐈𝐉 𝐒𝐊𝐀𝐓𝐄𝐏𝐀𝐑𝐊 𝐏𝐈𝐄𝐑 𝟏𝟓
(François Simard, Anouk Whissell en Yoann-Karl Whissell / Actie / Avontuur / 95 minuten / 2015)
De film van deze avond is 'Turbo Kid'  is een jaren '80 avontuur met toegevoegde gore,  BMX stunts, en het ziet er waanzinnig uit!
De allerlaatste Movie on the move zal plaatsvinden bij Pier 15 tijdens de opening van de kunstbanners EXPO van BUT Film Festival waarvan dit jaar die 18de editie plaatsvindt op 30 augustus tot 3 september. Tijdens de BUTFF EXPO worden de giga grote banners ten toon gesteld die in de afgelopen 18 jaar door diverse kunstenaars en illustrators gemaakt zijn voor het film festival. De BUT EXPO vind plaats op 18 t/m 20 augustus.  De opening van de EXPO begint op 18 augustus om 19:00u.
'𝐓𝐔𝐑𝐁𝐎𝐊𝐈𝐃'
"This is the future... This is the year 1997."
Een jonge, eenzame reiziger is geobsedeerd door stripboeken. Zijn leven verandert drastisch wanneer hij een mysterieus meisje genaamd Apple ontmoet. Zeus, de sadistische en zelfbenoemde leider van 'De Woestenij', terroriseert hen. De jongen trekt eropuit om het land van het kwaad te verlossen en het meisje van zijn dromen te redden.
Zie de trailer hier
Aanvang: 20:30u.
Entree: GRATIS!
Taal: Engels
Ondertiteling: Nederlands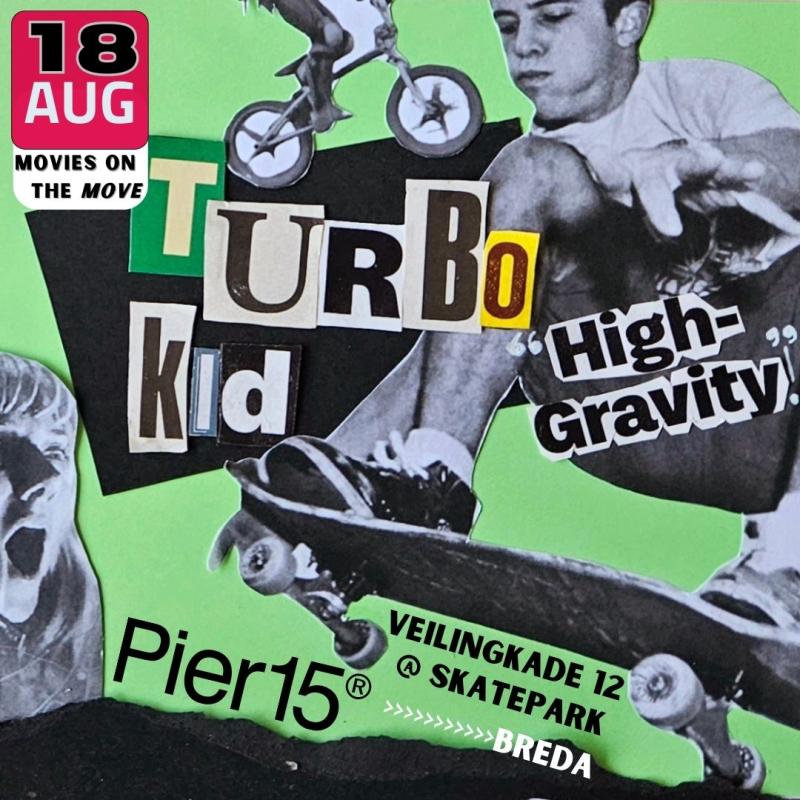 The very last Movie on the move will take place at the Pier 15 skatepark during the opening of the EXPO of BUT Film Festival of which this year that 18th edition takes place August 30 to September 3.  During the BUTFF EXPO, the giant banners that have been created by various artists and illustrators for the film festival over the past 18 years will be on display. The BUT EXPO will take place August 18-20.  The opening of the EXPO starts on August 18 at 19:00h.
This evening's film is Turbo Kid' is an 80s adventure with added gore, BMX stunts, and it looks insane!
'𝐓𝐔𝐑𝐁𝐎𝐊𝐈𝐃'
"This is the future... This is the year 1997."
A young, lonely traveler is obsessed with comic books. His life changes drastically when he meets a mysterious girl named Apple. Zeus, the sadistic and self-proclaimed leader of "The Savage," terrorizes them. The boy sets out to rid the land of evil and save the girl of his dreams.
See trailer here
Film starts at 20:30u
---
Date/Time
Fri 18th of August, 20.30
-
23.00hrs.
Location
PIER15 is dé hotspot voor urban sports & culture in Breda. Op het Haveneiland vind je o.a. het indoor skatepark, een buitenbowl, een freerunpark en een basketbalveld. Ook kun je bij ons genieten van optredens van bandjes in de bar, filmpremières, foto exposities, festivals, eigenzinnige performance avonden en uiteraard van een goede kop koffie of een lekker speciaalbiertje in de bar of op ons zonnige terras.
Address
Veilingkade 12, 4815 HC Breda