Film screening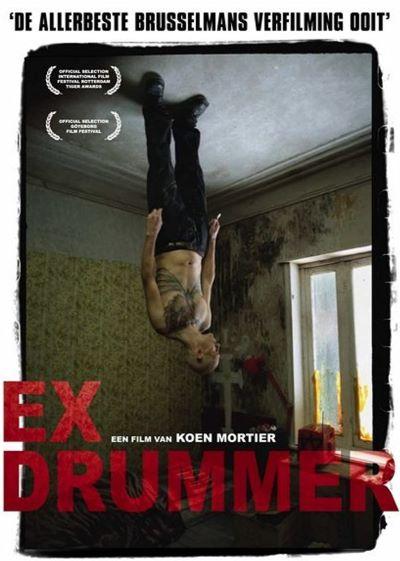 𝟏𝟑 𝐉𝐔𝐋𝐈 – '𝐄𝐗 𝐃𝐑𝐔𝐌𝐌𝐄𝐑'- 𝐁𝐈𝐉 𝐃𝐄 𝐙𝐎𝐌𝐄𝐑 𝐕𝐀𝐍 𝐙𝐀𝐍𝐄𝐓𝐓𝐈, 𝐒𝐓𝐀𝐃𝐆𝐀𝐋𝐄𝐑𝐈𝐉
(Koen Mortier/ Zwarte humor/ 100 min/ 2007 / België)
Ex Drummer is een speelfilm uit 2007 van Koen Mortier, gebaseerd op het gelijknamige boek van Herman Brusselmans uit 1994.
FILM bij de ZANETTI BAR: Zanetti was een kunstenaarscafé aan de haven In de jaren '80, gedreven door Giny Canjels. The place to be voor de alternatieve scene zoals kunstenaars en studenten van de academie St Joost. De muren waren versierd door kunstenaars en  jonge kunstenaar Ruud van Empel ontwierp het eerste en nu het allerlaatste affiche. Beneden in de middeleeuwse kelder speelden punk en new wave bandjes. Vandaar dat we bij deze ZANETTI REVIVAL een muzikale film gaan vertonen met veel zwarte humor.
Bij Zanetti is de bar dan open. Er is muziek en er is heerlijke fish & chips te koop voor de liefhebber!
– '𝐄𝐗 𝐃𝐑𝐔𝐌𝐌𝐄𝐑'-
Drie gehandicapte gasten met een rockband zonder drummer zijn op zoek naar een drummer, roem en succes. Ze vragen Dries, een bekend schrijver, zich bij hun band te voegen. Dries stemt toe en beslist dat zijn handicap zal zijn dat hij niet kan drummen. Als een ultieme, maar tevens duivelse god daalt hij de berg af om zich te mengen met het hulpeloze klootjesvolk. Met de komst van deze manipulator wordt ook de toekomst van de band op het spel gezet en het zal niet lang duren voor de andere leden elkaars bloed kunnen drinken. Hun enige toekomst is uiteindelijk geschreven in menige punktekst: 'No Future'...
Zie de trailer hier
Aanvang: 19:30u
Entree: GRATIS!
Taal: Belgisch
Ondertiteling: Nederlands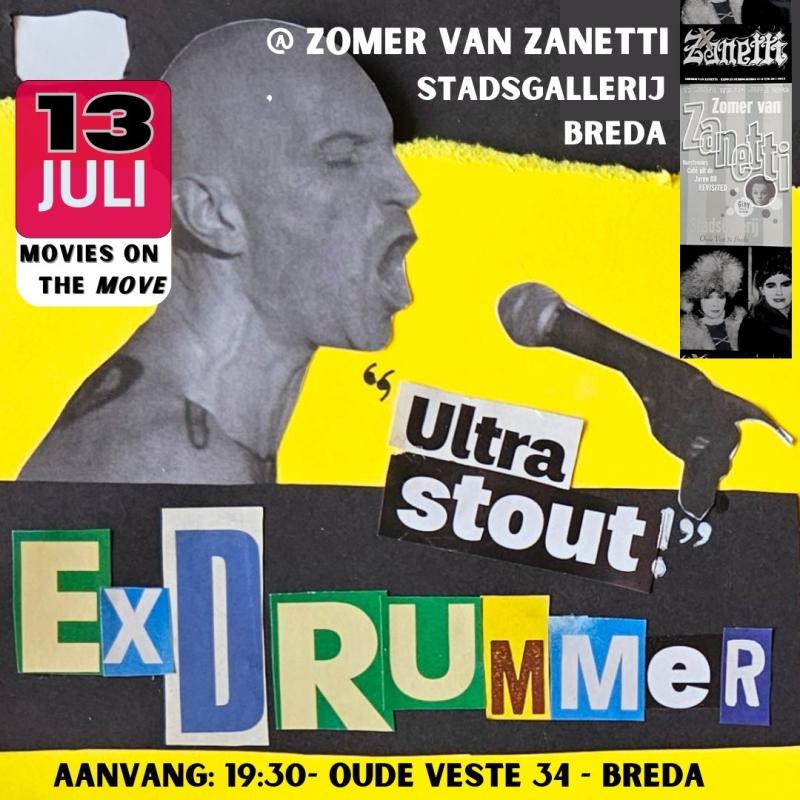 ENG:
FILM at the ZANETTI BAR: Zanetti was an artist cafe at the harbor In the 80s, driven by Giny Canjels. The place to be for the alternative scene such as artists and students of the academy St Joost. The walls were decorated by artists and young artist Ruud van Empel designed the first and now the very last poster. Downstairs in the medieval basement punk and new wave bands played. Hence, at this ZANETTI REVIVAL we will be screening a musical film with lots of black humor.
The Zanetti bar will be open! There is music! And fish & chips!
Ex Drummer is a 2007 feature film by Koen Mortier, based on Herman Brusselmans' 1994 book of the same name:
Three handicapped guys with a rock band without a drummer are looking for a drummer, fame and success. They ask Dries, a well-known writer, to join their band. Dries agrees and decides that his handicap will be that he cannot play the drums. Like an ultimate but also diabolical god, he descends the mountain to mingle with the helpless rabble. With the arrival of this manipulator, the future of the band is also put at stake, and it won't be long before the other members can drink each other's blood. Their only future is ultimately written in many a punk text: 'No Future'....
See trailer here
Film starts: 19:30u
---
Date/Time
Thu 13th of July, 19.30
-
23.00hrs.
Location
Address
Oude vest 34, Breda