Film screening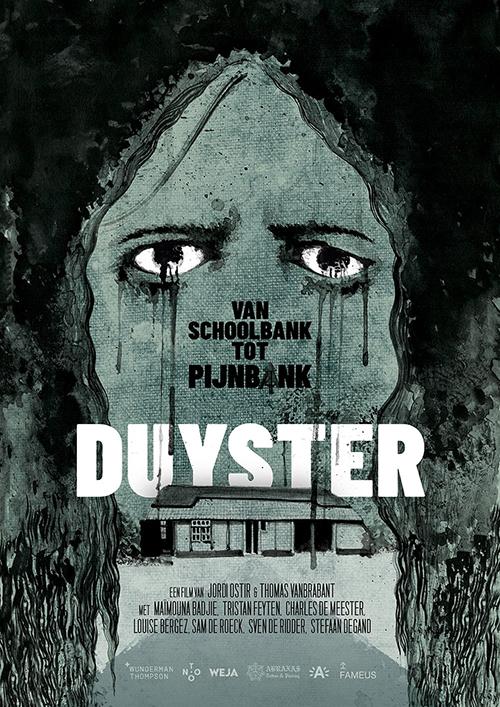 DUYSTER
Studenten Nora, Bas en Milan maken een documentaire over Johannes Duyster, de vroegere stadsbeul van Antwerpen. Hoe meer ze leren over zijn obscure leven, hoe meer ze botsen op vreemde incidenten. Duyster is de eerste Vlaamse horrorfilm binnen het found footage-genre.
Duyster combineert authentieke locaties en rituelen met een spannend en verrassend plot. De film is geregisseerd door debutanten Thomas Vanbrabant en Jordi Ostir. Die eerste schreef ook het scenario, die laatste is ook bekend van horrorpodcast Klokslag 12.
De cast van Duyster bestaat uit een mix van grote namen, zoals Stefaan Degand en Sven De Ridder, en rijzende sterren, zoals Maïmouna Badjie, Louise Bergez, Charles De Meester en Tristan Feyten. De Belgische metalband Your Highness schreef de exclusieve titeltrack voor Duyster, genaamd 'Deathsman'.
Duyster is gemaakt in eigen beheer. De financiering gebeurde via crowdfunding, subsidies van stad Antwerpen en kunstencentrum Fameus, en de steun van Proximus als producent. De film wordt gedistribueerd door Source 1 Media in Amsterdam.
Regisseur: Thomas Vanbrabant & Jordi Ostir | Duur: 81 min. | Land: België | Jaar: 2021
---
Date/Time
Fri 10th of December, 14.00
-
16.30hrs.
Fri 10th of December, 20.15
-
23.00hrs.
Location
Filmhuis Klappei is een origineel cinemaproject rond film en documentaire. Gelukkig wordt iedereen al snel verliefd op de Klappei en kunnen we rekenen op een toegewijde groep vrijwilligers die hun schouders zetten onder elke voorstelling. Bij ons kan je terecht voor de betere film, een roodfluwelen stoeltje in een haast huiselijke filmzaal én een drankje aan de bar om nog wat na te keuvelen.
Address
Klappeistraat 2, 2060, Antwerpen