Music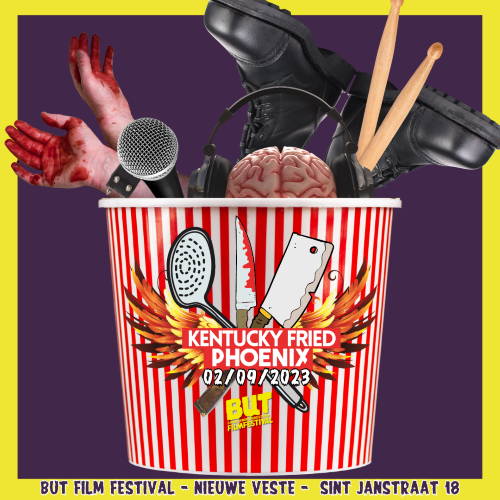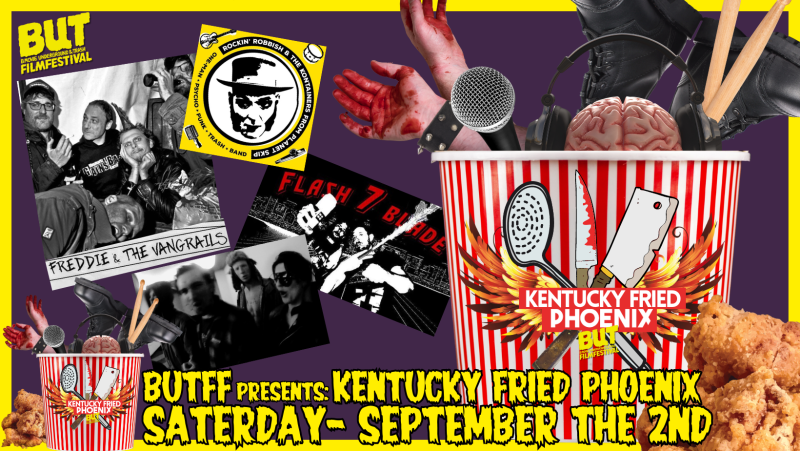 We are really, BUT REALLY, excited to announce that BUTFF is co-hosting this event Kentucky Fried Phoenix with @Poppodium Phoenix. We have a lot in store for you!!! This will be a night to remember!! We have 4 bands this evening from psychobilly, game-soundtrack-metal mania to old school punk from Kortwijk (BE), And all for a ticket price of  € 8,00! <<< SO GET YOUR TICKET HERE>>>!
Timetable (first up):
🍗Rockin' Robbish & the kontainers from planet Skip
🍗The aquarellities
🍗Flashdance 7
🍗Freddie & the vangrails
🦴 𝗥𝗢𝗖𝗞𝗜𝗡' 𝗥𝗢𝗕𝗜𝗦𝗛 & 𝗧𝗛𝗘 𝗞𝗢𝗡𝗧𝗔𝗜𝗡𝗘𝗥𝗦 𝗙𝗥𝗢𝗠 𝗣𝗟𝗔𝗡𝗘𝗧 𝗦𝗞𝗜𝗣
Psychobilly one-man band is here to rumble!!
One-man band Rockin' Robbish and his drum kit Kontainers from planet skip makes crossovers between genres such as psychobilly, folkpunk and trash. With songs about anxiety, zombies and bottles of rum, he will mash up the venue!! His two heavy slinging guitar sound and the rumbling on his drums will never be tamed!
🦴 𝗧𝗛𝗘 𝗔𝗤𝗨𝗔𝗥𝗘𝗟𝗟𝗜𝗧𝗜𝗘𝗦
In supreme state of tofiness, they sound like you've seen on screen!
The band from the hilarious no-budget "Aquarel The Movie" (2023) by Joost & Pim Kraan, of which we have the avant-premiere at our festival this day, will play their rattle punk music this evening with their band The Aquarellites. You will be hard pressed to find them on the internet, because the 'Akwarellities' spell their band name differently every time! That's how underground they are, or rather how deep they are, coming straight from the bowls of the ocean.
🦴 𝗙𝗟𝗔𝗦𝗛𝗕𝗟𝗔𝗗𝗘 𝟳
2 Men play groovy uptempo game soundtrack disco punk metal mania!! 
Flashblade 7 music style is a mixture of punk/metal/game soundtrack / industrial and pop. Think of Andrew W.K., Ministry and Aux Raux, but then with the happy sounds of happy hardcore from 80's disco/synthpop. They look like Johnny Depp and Dolph Lundgren (but then in a trashy way) and bring instant classics such as Limbo Hard and the Apo-Calypso! Armed with a Casio song bench and guitar, they are ready to go into battle with the audience. So power up and see them live, because the party is on, like Donkey Kong! 
🦴 𝗙𝗥𝗘𝗗𝗗𝗜𝗘 & 𝗧𝗛𝗘 𝗩𝗔𝗡𝗚𝗥𝗔𝗜𝗟𝗦
Team up for Kortrijk's most savage punk bastards!
Four idiots born & bred at the most obnoxious shithole around, The Pit's. Crankin' out loud old school P.U.N.K., fuelled by cheap beer and a lunatic singer. They race through their setlist that takes longer to write than the length of their gig. 
Their words: We ain't musicians!! 
---
Date/Time
Sat 2nd of September, 19.30
-
23.00hrs.