Festival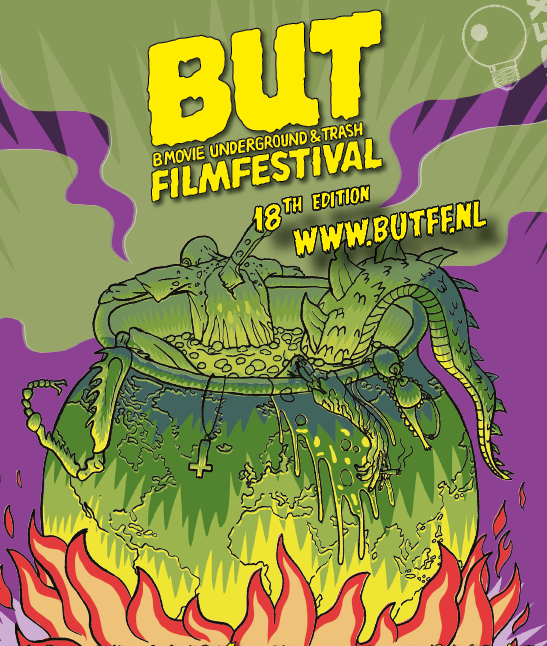 𝗕𝗨𝗧 𝗙𝗜𝗟𝗠 𝗙𝗘𝗦𝗧𝗜𝗩𝗔𝗟 𝟮𝟬𝟮𝟯: 𝗡𝗢𝗪 𝗪𝗘'𝗥𝗘 𝗖𝗢𝗢𝗞𝗜𝗡𝗚 🔥🔥
...𝗜𝘁 𝗵𝗮𝘀 𝗯𝗲𝗲𝗻 𝘀𝗶𝗺𝗺𝗲𝗿𝗶𝗻𝗴 𝗳𝗼𝗿 𝗮 𝘄𝗵𝗶𝗹𝗲 𝗻𝗼𝘄… 𝗔𝗳𝘁𝗲𝗿 𝗲𝗶𝗴𝗵𝘁𝗲𝗲𝗻 𝘆𝗲𝗮𝗿𝘀 𝗼𝗳 𝗽𝗶𝗰𝗸𝗶𝗻𝗴 𝘂𝗽 𝘀𝘁𝗲𝗮𝗺, 𝘁𝗵𝗲 𝗕𝗨𝗧 𝗙𝗶𝗹𝗺 𝗙𝗲𝘀𝘁𝗶𝘃𝗮𝗹 𝗵𝗮𝘀 𝗳𝗶𝗻𝗮𝗹𝗹𝘆 𝗿𝗲𝗮𝗰𝗵𝗲𝗱 𝗮𝗱𝘂𝗹𝘁 𝗮𝗴𝗲. 𝑵𝑶𝑾 𝑾𝑬'𝑹𝑬 𝑪𝑶𝑶𝑲𝑰𝑵𝑮!!
𝗪𝗛𝗔𝗧'𝗦 𝗢𝗡 𝗧𝗛𝗘 𝗕𝗨𝗧𝗙𝗙 𝟮𝟬𝟮𝟯 𝗠𝗘𝗡𝗨?
Hungrier than ever, BUTFF sinks its teeth into the genres that will make your stomach turn but leave your mouth watering for more. Because with its kitchen knife, BUTFF takes a stab at all kinds of perversities and taboos relating to food, its preparation and consumption. Think of a BUT-brew full of meat grinders, microwave massacres, killer tomatoes, vomit creatures, cannibalism, eating disorders, food fetishes, radical vegans, eating the rich, the earth reaching boiling point due to global warming, in other words; food for thought. Connoisseurs with an acquired taste for the arts of the underground are thus served with a feast that will leave you licking your fingers.
"𝑰𝑻'𝑺 𝑨 𝑳𝑶𝑻 𝑻𝑶 𝑺𝑾𝑨𝑳𝑳𝑶𝑾 𝑨𝑵𝑫 𝑴𝑰𝑮𝑯𝑻 𝑩𝑬 𝑻𝑶𝑶 𝑴𝑼𝑪𝑯 𝑻𝑶 𝑫𝑰𝑮𝑬𝑺𝑻 𝑭𝑶𝑹 𝑺𝑶𝑴𝑬 𝑩𝑼𝑻…. "𝑰𝑭 𝒀𝑶𝑼 𝑪𝑨𝑵'𝑻 𝑺𝑻𝑨𝑵𝑫 𝑻𝑯𝑬 𝑯𝑬𝑨𝑻!🔥🔥🔥 𝑺𝑻𝑨𝒀 𝑶𝑼𝑻 𝑶𝑭 𝑻𝑯𝑬 𝑲𝑰𝑻𝑪𝑯𝑬𝑵!"
𝗪𝗛𝗔𝗧'𝗦 𝗕𝗨𝗧𝗙𝗙?
THE ONLY film festival in the Netherlands for 𝐁-movies, 𝐔nderground & 𝐓rash Movies! With 5 days of movies filled with violence, absurdity, creativity and corniness. And.... that's not all! Also, lots of performances, bands, art exhibitions, good beers and much more.
See here >> TIMETABLE AND PROGRAM << of 18TH edition BUTFF - NOW WE'RE COOKING! .
𝗕𝗨𝗧𝗙𝗙 𝗧𝗜𝗖𝗞𝗘𝗧𝗦 (€𝟴𝟬,-)
Buy NOW your BUTFF full 5 days of festival ticket for € 80,-. 
         >> GET TICKETS!
𝗕𝗨𝗧𝗙𝗙 𝗗𝗔𝗬𝗧𝗜𝗖𝗞𝗘𝗧𝗦 (€𝟮𝟳,𝟱𝟬):
𝗕𝗨𝗧𝗙𝗙 𝗦𝗜𝗡𝗚𝗟𝗘 𝗙𝗜𝗟𝗠𝗧𝗜𝗖𝗞𝗘𝗧𝗦 (€ 𝟴,𝟱𝟬, 𝗲𝘅𝗰𝗹. 𝘀𝗽𝗲𝗰𝗶𝗮𝗹 𝗲𝘃𝗲𝗻𝘁𝘀)
𝗕𝗨𝗧𝗙𝗙 𝗦𝗣𝗘𝗖𝗜𝗔𝗟 𝗘𝗩𝗘𝗡𝗧𝗦:
BUTFF 2023 Opening Night (Aug 30 - 19:00): € 10,- >> GET TICKETS!
BUTclub hosted by Pier15 (Aug 31 - 20:00): € 8,- >> GET TICKETS!
Black metal Night with Terzij De Horde and GGU:LL (Sep 1 - 20:00) € 15,- >> GET TICKETS!
Kentucky Fried Phoenix (Sep 2 - 20:00): € 8,- >> GET TICKETS! 
Eat Your Feelings: Delicatessen (Sep 2 - 14:00) € 13,50,- >> GET TICKETS!
VHS from Space (Sep 3 - 20:00): Free entrance
---
Date/Time
Wed 30th of August, 19.00hrs.
-
Sun 3rd of September, 23.00hrs.
Location
Address
St. Janstraat 18, Breda, The Netherlands